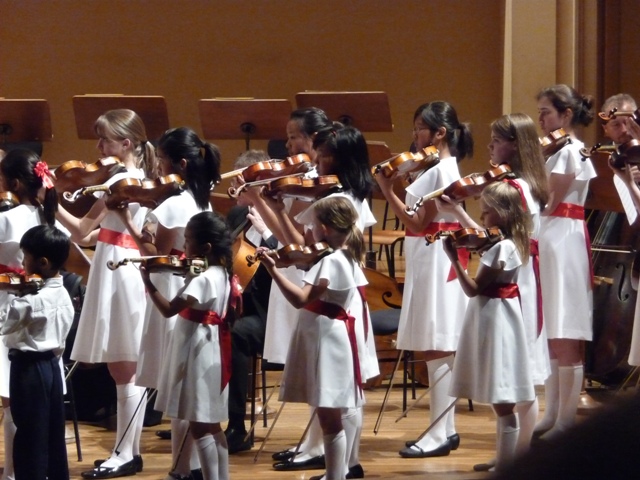 [Music performed by BHAcademy students ranging from ages 4-17]
Concert Details 2019:
(Print out for your Records)
[REHEARSALS]: To Be Announced
* Attendance: At all Rehearsals are Mandatory. Requests to miss ONE Rehearsal must be written to Mrs. Haag for evaluation prior to the Concert Rehearsals. Attendance will be taken outside of the Rehearsal room, prior to entering.
*Drop-Off and Pick-Up Procedures: Arrive 30 Mins., prior to Rehearsal, at the assigned entrance, or the BHAcademy,side entrance, downstairs. Instrument Only, No Cases! Leave All your belongings, in your Car. As a Precaution:Please do not bring any Food, Peanuts, or Foods with Peanuts. As there will be children with severe Peanut allergies, that will be at the Rehearsals.
Violin and Bow, must be labeled with First & Last Name. Shoulder Bar, needs to be taped on, securely. Nametags,must be pinned on the Child's left shoulder with Name, most advanced piece, and the Teacher's Name.
Notes: Volunteers, will be at both Doors able to assist with any support required, to accomplish these tasks. Parents, will follow the directions provided by your child's Teachers, beforehand. Once Concert is finished, a Volunteer will escort your child, back to the Pick-Up area, for you.
Notes: We ask that All Parents be respectful of our Closed Rehearsals, if assigned. If your child is very young, we will allow those Parents, to walk them to the Rehearsal area, then you must leave the child with the Volunteers. If your child cannot handle being separated, from you. Then, they may also not be ready to perform for the Concert Performances.
Dress Rehearsal - To be Announced!
* Final Dress Rehearsal - Your Child must be dressed in EXACTLY what they will be wearing for the Concert Performance. Mrs. Haag, must approve the entire Uniform. This includes Socks, Shoes, Accessories, etc. If you are not able to attend the Dress Rehearsal. You must set-up alternate arrangements, to have your Uniform checked by Mrs. Haag, prior to the event.
ANNUAL SPRING CONCERT - Saturday, TBA - 1:00 PM
( Concert Location: Orchestra Hall , Michigan Ave, Chicago, IL.
** Arrive at Orchestra Hall - 10:45 AM
- See - Saw group will enter thru the entrance assigned, and follow the sign, to the staging area.
- All other students will enter thru the entrance assigned into the staging area, specified by Mrs. Haag, beforehand.
- Violin, bow, shoulder bar must be labeled, with First and Last Name.
Notes: Please bring only your violin, bow, and shoulder bar. Absolutely, No CASES! Place your instrument at its assigned area/room, to get it tuned.

(Leave, and return at the time assigned, in your performing clothes.)
** Only the following Performers will be permitted backstage, after 11:45 AM
* See-Saw Group and Mendelssohn Concerto thru Handel Bourree. *
Notes: a) If you play any pieces between Lightly Row and Bach Minuet No. 1, please do not return Backstage, until after the performance of BARTOK. b) Students must have Name Tag, pinned on their right shoulder, check your child's uniform, thoroughly. c) The Sash or Tie must be pinned, properly. d) Remove all Jewelry, and Nail Polish, etc., volunteers will be Backstage pinning on Sashes. e) DO NOT send your child Backstage, with Food, Coats/Jackets, Valuables, Cases, etc. f) Backstage, is a very limited space, with NO Security to watch over any personal items, before, during, or after, the Concert.
** 12:30PM - Doors - will OPEN to Orchestra Hall - Chicago IL
** 12:45 PM - Annual Spring Concert - Orchestra Hall Performance - (Quiet please - Doors are Closed!)
Concert Guidelines: Tickets are required for all ages. No Lap Seating is allowed. Videotaping, with hand-held Cameras is only permitted, in the Box Seats. Please be courteous to others when taking pictures. Absolutely, NO FLASH CAMERAS, allowed.
End of Concert: All children should be picked up in the Front Side entrance at Orchestra Hall , or where they were dropped off. With older Performers, please select a pick-up location prior to the concert. We request that you remain in your seats until all the children, are off the stage. Do not approach the Stage, as the young performers may get excited, and run to you, and could cause a serious safety concern.
The Official website of Betty Haag Academy and the Magical Strings of Youth. All content copyright © Betty Haag 2002-2007. All rights reserved. Web Master: a3bplus@hotmail.com Wireless Wizards Co., 1516 N Elmhurst Road, Suite 2132, Mt. Prospect, IL 60056. Site design copyright © 2002 elfenworks LLC featuring sculpture by Lorenzo Cascio.